02.03.2018 | Research Paper | Ausgabe 3/2018 Open Access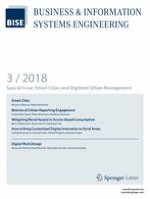 Exploring the Motives of Citizen Reporting Engagement: Self-Concern and Other-Orientation
Zeitschrift:
Autoren:

Dr. Gabriel Abu-Tayeh, Dr. Oliver Neumann, Dr. Matthias Stuermer
Wichtige Hinweise
Accepted after three revisions by the editors of the special issue.
1

Introduction

To test our two hypotheses (postulating that both self-concern and other-orientation are positively associated with citizen reporting engagement, although possibly to varying degrees), we relied on a sample of ZWN users (n = 650). Data was collected from two different sources: motivation was assessed in an online user survey, whereas citizen reporting engagement was measured by the number of reports that a user had filed on the platform. The analysis was carried out using negative binomial regression. Our findings suggest that both self-concern and other-orientation are significant drivers of citizen reporting engagement, although the effect of self-concern appears to be stronger in comparison.

The remainder of this study is structured as follows: the following section contains a review of relevant literature on the motives behind citizen reporting engagement, focusing on the roles of self-concern or other-orientation. We then present in depth our hypotheses derived from theory before proceeding to an outline of the analytical methods we used. We continue with our data analysis and a presentation of the results. The final section presents the discussion and conclusions of our work.
2

Literature Review
2.1

Citizen Sourcing and Citizen Reporting
2.2

Motivation to Contribute

For governments, it is important to know the motives behind citizen engagement because citizen reporting is voluntary and consequently works beyond organizational boundaries. This refers to the fact that citizens are not obliged to participate, especially not through organizational bonds (social or legal) (Kube et al.

2015

; Schmidthuber and Hilgers

2017

). Motivational reasons are usually considered as either intrinsic or extrinsic (Deci and Ryan

1985

). Extrinsic motivation is the driver behind actions from which a person expects a personal benefit. In contrast, an intrinsically motivated person acts out of an inherent interest in a certain phenomenon of for the joy derived from performing an action (Von Krogh et al.

2012

). This distinction holds for human actions in general, including other voluntary web-based activities such as open innovation, crowdsourcing, open content, and open source communities (e.g., Hars and Ou

2001

; Franke and Shah

2003

; Hertel et al.

2003

; Von Krogh et al.

2012

).

The concepts of intrinsic and extrinsic motivation have been used not only to investigate motivations in open source software development, but also in research on open content communities, social question & answer (Q&A) systems, and even citizen reporting (Sun et al.

2012

; Wijnhoven et al.

2015

; Choi and Yi

2015

). According to this research, usually both motivational dimensions are responsible for human action to varying degrees (Von Krogh et al.

2012

; see also Neumann

2016

).

In this study, we therefore scrutinize both intrinsic and extrinsic factors as antecedents of citizen reporting engagement. More specifically, we draw on motivation research in social psychology and distinguish between other-orientation, which is an intrinsic and prosocial motive, and self-concern, which is an extrinsic motive (Bolino and Grant

2016

). Self-concern may furthermore be understood as the tendency to base one's behavior on the desire to protect and improve one's self-interest, whereas other-orientation is geared towards the needs and interests of others, highlighting the importance to take care of the weak and poor (De Dreu and Nauta

2009

).
3

Theory and Hypotheses

Citizens can be motivated to participate in citizen reporting either because they expect to benefit from their actions, for instance if the government settles an issue they previously reported because it personally annoyed them. In this case, citizens are mainly self-concerned. If, however, they report infrastructure issues because they want to help others, other-orientation is considered to be dominant.
4

Case Selection

To investigate the hypotheses, we have drawn on data from the citizen reporting initiative ZWN in the Swiss city of Zurich. ZWN is a web-based service enabling citizens to report damages in and issues with the city infrastructure such as litter, graffiti, potholes, and broken street lights. In addition to the web-based application, citizens can also report their issue via a mobile app. Reports consist of a description of the issue and localization on the map. Photographs can be added to provide additional clarification. Within 1 day, the report will be validated and assigned to the responsible city department. Within 5 working days, the department will reply to the issue by posting a publicly visible response on the platform.

ZWN is a representative citizen reporting application for two reasons: first, ZWN is based on FixMyStreet, a widely used open source platform for citizen reporting. It has been developed continuously since 2007 by the UK non-profit organization mySociety. In the UK, over 1.3 million reports have since then been published by citizens on

http://​www.​fixmystreet.​com

. FixMyStreet is also used in several other countries such as Sweden, France, Australia, Malaysia, and India. Thus, it works in numerous languages and is accepted in different cultures. In addition, ZWN is not a new application, but a mature and stable platform which has been running in the city of Zurich since 2013 with over 12,000 issues reported by citizens. Moreover, the rate of reports is steadily increasing because the city government has decided to operate the platform as a regular city service.
5

Methods
5.1

Sample and Data Collection

Data was obtained from two different sources. The independent variables, first and foremost the motivational constructs, the demographic variables, and the other control variables, were measured in an online survey, whereas the dependent variable, the number of reports that a user has filed, was taken directly from the platform's database. This procedure allowed us to avoid common method bias (Podsakoff et al.

2003

). The online survey was sent to all 2613 users of ZWN who were active with the period from June 2013 to July 2016. Overall, 728 questionnaires were returned of which 650 were fully completed. To guarantee the anonymity of the ZWN users, the city of Zurich sent out the survey to all participants from their email server. Subsequently, they provided us with a list of anonymous user IDs, which allowed us to match the answers of the survey respondents with their actual use data, which we extracted from the ZWN database.

To add a qualitative component to our analyses, we coded the reports of the survey participants according to their quality. Quality was assessed by five coders based on three ratings: (1) comprehensibility of the report; (2) amount of information; (3) photograph attached.
7

Discussion

The aim of this study was to examine to which degree self-concern and other-orientation are related to the number of reports filed by users of a citizen reporting platform. After having laid out the theoretical assumptions on the motivations behind citizen reporting, we empirically investigated two hypotheses based on a sample of users from the citizen reporting initiative ZWN in Switzerland. ZWN is a web-based service allowing citizens in Zurich to report damages in the city infrastructure such as litter, graffiti, potholes, and broken street lights.

Our findings lead to three main implications for managers in public administration. First, in order to increase the number of reports per participant, advertising should be focused on people with either a high emphasis on self-concern or on other-orientation. Second, attention should be paid to the influence of socio-economic characteristics on the level of participation and the number of reports per participant in citizen reporting. The ever-increasing digitalization of governments may lead to the exclusion of parts of the population, for instance those who use digital media less or not at all. Regarding citizen reporting initiatives such as ZWN, our findings identify women, older people, not currently employed and less educated people. Third, the willingness to participate does not necessarily correspond to actual participation. This is of particular importance when the launch of a new project is intended to be based on a survey of citizens concerning their willingness to participate.
8

Conclusion

We conclude that citizen reporting is of great interest to local authorities, especially in smart city contexts. Our study of the ZWN platform in Switzerland indicates that both self-concern and other-orientation motivate citizens to voluntary support government in this way, although self-concern is a slightly stronger driver. However, there are also a number of inherent issues that should be taken into account: actual participation in a citizen reporting project is influenced by socio-economic characteristics; for instance, the average number of reports a participant submits varies by gender. Managers in public administration need to be aware of such correlations. Nevertheless, citizen reporting can be a valuable tool to support government activities, similar to the way that open innovation and open source are used to support the activities of many businesses and software communities, and it is likely to become increasingly popular in the future.
Open Access
This article is distributed under the terms of the Creative Commons Attribution 4.0 International License (
http://​creativecommons.​org/​licenses/​by/​4.​0/​
), which permits unrestricted use, distribution, and reproduction in any medium, provided you give appropriate credit to the original author(s) and the source, provide a link to the Creative Commons license, and indicate if changes were made.