01.06.2015 | Ausgabe 2/2015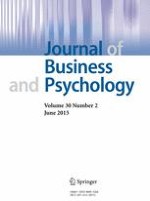 Exploring the Use of Credit Scores in Selection Processes: Beware of Adverse Impact
Zeitschrift:
Autoren:

Sabrina D. Volpone, Scott Tonidandel, Derek R. Avery, Safiya Castel
Abstract
Purpose
The use of credit checks or credit scores in personnel selection has received widespread media attention of late. Though there is speculation that basing hiring decisions (even partially) on credit-related variables may produce or increase adverse impact, virtually no empirical literature exists to support or refute this claim. The present study explores the impact of using credit scores, in the context of a larger selection system, on adverse impact.
Design/Methodology/Approach
We conducted Monte Carlo simulations representing various real-world selection systems (i.e., multiple hurdle, multiple hurdle with cut-off score, single hurdle). In addition to applicant credit scores, each simulation included variables that organizations commonly use during selection (i.e., educational background, personality).
Findings
Results showed that in a majority of simulated hiring scenarios, using credit scores (as opposed to a random, race-neutral variable) widened the Black-White gap in hiring, producing more violations of the 4/5ths rule and statistically significant adverse impact.
Implications
These results imply that organizations should be cautious when using credit scores to evaluate potential or current employees for jobs.
Originality/Value
This is one of the first studies to provide empirical evidence of a relationship between credit scores in selection and adverse impact. The use of simulations helps organizations be proactive in regards to choosing selection practices. Our results in particular pinpoint the situations where implementing credit scores as part of a larger selection process might be most problematic in terms of adverse impact, thereby providing much needed guidance to those considering credit scores for their selection processes.