2019 | OriginalPaper | Buchkapitel
Exploring the Value of Electronic Health Records from Multiple Datasets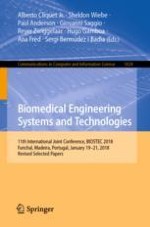 Erstes Kapitel lesen
Autoren: Olga Fajarda, Alina Trifan, Michel Van Speybroeck, Peter R. Rijnbeek, José Luís Oliveira
Abstract
During the last decades, most European countries dedicated huge efforts in collecting and maintaining Electronic Health Records (EHR). With the continuous grow of these datasets, it became obvious that its secondary use for research may lead to new insights about diseases and treatments outcomes.
EHR databases can be used to speed up and reduce the cost of health research studies, which are essential for the advance and improvement of health services. However, many times, a single observational data source is not enough for a clinical study, thus data interoperability has a major impact on the exploration of value of EHRs. Despite the recognized benefit of data sharing, database owners remain reluctant in conceding access to the contents of their databases, mainly due to ownership, privacy and security issues.
In this paper, we exploit two major international initiatives, the European Medical Information Framework (EMIF) and the Observational Health Data Sciences and Informatics (OHDSI), to provide a methodology through which multiple longitudinal clinical repositories can be queried, without the data leaving its original repository.