2019 | OriginalPaper | Buchkapitel
Expressing the Personality of a Humanoid Robot as a Talking Partner in an Elementary School Classroom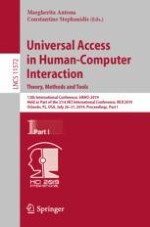 Erstes Kapitel lesen
Autoren: Reika Omokawa, Makoto Kobayashi, Shu Matsuura
Abstract
A humanoid robot NAO was introduced as a talking partner of teaching AI and robot to the elementary school students to stimulate empathy for the intelligent machines. Two dialog types were defined. First, the query type dialog was defined as a robot's answer to human questioning. Second, the phatic type dialogs were defined to express the personality of the robot. While the former type dialog is initiated by formulated questioning, the latter type response can even be induced by misrecognition of human speech.
Applying this simple method, the same unit sessions for each of the three classrooms on AI and robot were conducted. During the sessions, students' burst of laughter was induced at 83% of the phatic type dialog, and the laughing response was found at 44% of the query type dialogs. By this representation, it became easier for the students to empathize with the robot.
After this session, a questionnaire survey on the preference of robot pet, on what the students wanted to talk with the robot that dreams at night, and on their view of life if AI robots replaced human workers was conducted. The results suggested that the students got to imagine a virtual subjectivity of the intelligent machines and considered a better life for the human with them.