20.04.2018 | Original Paper | Ausgabe 9/2018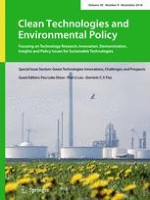 Extensive comparison of biodiesel production alternatives with life cycle, PESTLE and multi-criteria decision analyses
Zeitschrift:
Autoren:

Laszlo Racz, Daniel Fozer, Tibor Nagy, Andras Jozsef Toth, Eniko Haaz, Janka Ariella Tarjani, Anita Andre, Asmaa Selim, Nora Valentinyi, Laszlo Tamas Mika, Csaba Deak, Peter Mizsey
Wichtige Hinweise
Electronic supplementary material
Abstract
Biodiesel production showed an immense increase worldwide in the past decade. Since the comprehensive analyses of biodiesel production processes and their comparative evaluation are both rare and not informative enough, e.g., for scientists and decision makers, in this work different, favored biodiesel production alternatives (rapeseed, soybean and palm) are analyzed from multiple viewpoints and compared. A complex examination is carried out with Political, Economic, Social, Technological, Legal and Environmental (PESTLE) analysis, where cradle-to-grave life cycle analysis is incorporated and performed within PESTLE factors. Life cycle inventory is set up based on Ecoinvent 3.3 database, while life cycle impact assessments are achieved by IPCC 2013, IMPACT 2002+, EPS 2000 and 2015dx methods. Monte Carlo analysis is also carried out in order to make certain about the robustness of input data. The investigated factors are weighted and ranked with multi-criteria decision analysis, wherein Technique for Order Preference by Similarity to the Ideal Solution (TOPSIS) method is applied for the comparison of alternatives. Our work presents a clear methodology for the comprehensive evaluation of biodiesel production alternatives, but the guideline can be followed for the evaluation of other production alternatives. In spite that the life cycle analysis shows the palm oil as the best alternative, the results of our comprehensive analysis show that the highest overall TOPSIS score can be achieved with rapeseed-based biodiesel pathway, especially for the European region.