2017 | OriginalPaper | Buchkapitel
13. Extensive Treaty Network and Unilateral Credits Support Foreign Investment: The Dutch Approach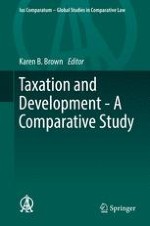 Erstes Kapitel lesen
Autor: Raymond H. C. Luja
Abstract
Although the Netherlands has a worldwide system of taxation for residents, certain foreign profits are excluded from the tax base by treaty or internal law. The internal law exemption applies to active business income as well as certain passive income subject to a threshold tax rate of at least 10 %. The existing participation exemption removes from the Dutch income tax base certain dividends received from a 5 %-or-more owned foreign or domestic corporation. This participation exemption also encompasses certain gains realized on the sale of stock as well as on the liquidation of the corporation. There is a unilateral credit, available for Dutch recipients of dividends, royalties and interest payments from entities resident in developing counties. The Dutch participation exemption, the unilateral credit for specified investments, and the extensive treaty network provide considerable incentives for investment in developing countries.
Synopsis
Although the Netherlands has a worldwide system of international taxation for resident companies, since 2012 foreign business profits and losses are excluded from the tax base either by treaty or under internal law. The exemption relates to profits and losses attributable to a permanent establishment in another state, profits and losses from real estate in the other state, and income from shares held other than as a portfolio investment. The exemption is not allowed where the income derives from ownership in a foreign passive financing company or ownership in a foreign company engaged in portfolio investments which is not subject to an effective rate of tax of at least 10 %. When the exemption does not apply because of the effective-rate-of-tax rule, a limited foreign tax credit may be available to offset Netherlands tax on the income.
Under a longstanding participation exemption (its predecessors dating back to 1893), resident corporations may exempt from the income tax base any dividends received from a 5 %-or-more owned foreign corporation. Gains and losses on the sale of shares held are also exempt. Profits realized upon liquidation of a subsidiary are covered as well, but losses from such a transaction are allowed in certain circumstances. The participation exemption does not apply if the foreign subsidiary is primarily engaged in passive investments or passive group financing or leasing and is not subject to a minimum level of taxation (an effective tax rate of at least 10 %).
Dutch recipients of dividends, royalties, and interest paid by developing county residents are eligible for a unilateral credit (subject to certain limitations) against Dutch income tax for taxes paid (either a withholding tax or corporate income tax) to entities in these jurisdictions on the income. This credit is available whether or not the payer is resident in a country with a treaty with the Netherlands and amount allowed may be higher than the actual developing country rate. The Dutch corporate tax provides for an "innovation box," subjecting specified income from patents and other research and development to an effective tax burden of 5 %. When the 5 % burden applies, the credit is correspondingly limited.
Regarding exchange of information, Dutch tax administration must spontaneously provide information to treaty partners concerning Dutch entities which are international group financing and licensing companies if they do not meet requirements entitling them to treaty benefits. As a member of the EU, the Netherlands must comply with Directives and Conventions on administrative cooperation, including exchange of information. In addition, it is bound by the EU Code of Conduct and other prohibitions, including the one on provision of state aid, that may limit its ability to offer special tax incentives to invest in developing countries.
The Netherlands is party to approximately 100 bilateral investment and protection agreements.
Because of its participation exemption, the Dutch tax regime offers opportunities to developing countries to attract active business operations (portfolio and passive financial income does not benefit from the regime if not subject to an effective rate of tax of at least 10 %). Additionally, investors may be attracted to the Dutch system because of the approachability of the Dutch tax officials and the ability to obtain legally certain guidance relating to transfer pricing and other transactions in advance. Because of these features, so-called special purpose entities (SPEs) are organized in the Netherlands in order to direct investment into developing countries. It is estimated that developing countries lose substantial revenue in the form of source taxes on dividends and interest because the income is routed through the Netherlands and passed on to parents in third countries lacking an advantageous treaty. This disadvantage is believed to be outweighed by the substantially larger inflow of investment through Dutch SPEs in developing countries that are parties to a treaty with the Netherlands. Partly to remedy any unintended disadvantage to developing countries through treaty-shopping, the Dutch authorities have proposed to negotiate inclusion of limitations of benefits provisions in existing tax treaties with 23 developing countries.