12.11.2020 | Ausgabe 7-8/2020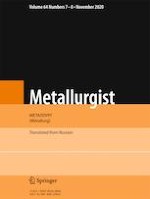 Extraction of Gold from Refractory Gold-Bearing Ores by Means of Reducing Pyrometallurgical Selection
Zeitschrift:
Autoren:

R. S. Seisembayev, S. M. Kozhakhmetov, S. A. Kvyatkovsky, A. S. Semenova
Wichtige Hinweise
Translated from Metallurg, Vol. 64, No. 8, pp. 49–55, August, 2020.
Problems related to the effective processing of refractory gold ores containing carbon and arsenic are discussed. In the search for technologies for the extraction of gold from such ores, including those obtained from the Sayak-4 gold deposit, pyrometallurgical processing represents a possible direction. The results of an experimental study of the Reducing Pyrometallurgical Selection (RPS) process carried out in relation to this ore are presented. To this end, the ore was smelted with flux additives and a reducing agent leading to the extraction of noble metals in the metallized phase. The experiments were carried out using the following ore composition, wt. %: 3.5 g/ton Au; 1.76 g/ton Ag; 3.95 Fe; 0.01 Cu; 1.93 C; 1.0 S; 3.3 As; 0.05 Co; 38.30 SiO2; 23.6 CaO; 4.56 Al2O3; 0.73 MgO with addition of iron, copper oxides, and coke. The optimal temperature conditions of melting were determined. The possibility of obtaining a metallized phase containing 16.2–16.4 g/ton gold with gold recovery of ∼ 90% was demonstrated. Preliminary calculations show that the economic efficiency of the new process can be achieved with a gold content of more than 5 g/ton in ore. Pyrometallurgical processing is shown to be promising for treating ores obtained from refractory and double-refractory gold deposits.