01.08.2013 | Ausgabe 4/2013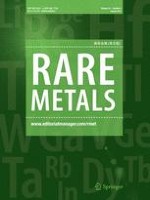 Extraction of palladium (II) from hydrochloride solutions with 2-
n

-octyl-4-isothiazolin-3-one as novel extractant
Zeitschrift:
Autor:

Song-Ping Wu
Abstract
Solvent extraction of palladium (II) from hydrochloric acid solution with 2-
n
-octyl-4-isothiazolin-3-one (OIT)/cyclohexane was studied. Effects of different parameters on extraction efficiency were evaluated. 99.96 % and 98.26 % palladium (II) could be effectively extracted with 0.018 mol·L
−1
OIT/cyclohexane of 0.1 and 4.0 mol·L
−1
HCl medium, respectively. Nonpolar solvent and low acidity could improve the extracting efficiency, and successfully strip palladium (II) from the loaded organic phase was achieved with 0.5 mol·L
−1
(NH
2
)
2
CS solution. It was proposed that the extraction of Pd complexes from HCl medium proceeded through the ion-association mechanism by slope method, NMR and FT-IR spectra.