01.10.2016 | Research Article | Ausgabe 10/2016 Open Access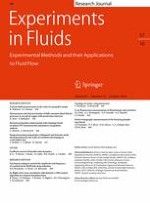 Extremum seeking to control the amplitude and frequency of a pulsed jet for bluff body drag reduction
Zeitschrift:
Autoren:

Rowan D. Brackston, Andrew Wynn, Jonathan F. Morrison
Abstract
Feedback control of fluid flows presents a challenging problem due to nonlinear dynamics and unknown optimal operating conditions. Extremum seeking control presents a suitable method for many flow control situations but involves its own challenges. In this paper, we provide a brief analysis of the extremum seeking method, with attention to modifications that we find to be advantageous. In particular, we present an adaptation for optimisation of the frequency of a harmonic input signal, a common scenario for open-loop flow control systems. We then present results from the experimental implementation of our modified method to the open-loop control system of Oxlade et al. (J Fluid Mech 770:305–318,
2015
), an axisymmetric bluff-body wake, forced by a pulsed jet. We find that the system is able to achieve optimal operating conditions in both the amplitude and frequency of the harmonic input signal, and is able to largely reject the disturbances arising from measurements of a highly turbulent flow. We finally show the ability of the extremum seeking system to adapt to changing conditions.