03.06.2020 | Ausgabe 8/2020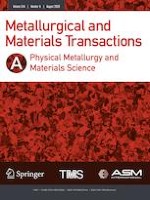 Fabrication and Characterization of Nanostructured AACVD Thin Films on 316L SS as Surface Protective Layers in Simulated Body Fluid
Zeitschrift:
Autoren:

A. Madhan Kumar, Muhammad Ali Ehsan, Rami K. Suleiman, Abbas Saeed Hakeem
Wichtige Hinweise
Electronic supplementary material
Manuscript submitted February 24, 2020.
Publisher's Note
Springer Nature remains neutral with regard to jurisdictional claims in published maps and institutional affiliations.
Abstract
The surface of implant materials is one of the most significant factors for controlling the interaction between biomaterials and bone tissues. Hence, enhancing the clinical performance of bio-implants is being widely focused worldwide. Herein, we report that nanostructured silver (Ag) coatings prepared on medical grade 316L stainless steel (SS) substrates are promising implant/surgical materials for orthopedic applications. Homogeneous nanoparticle-shaped silver thin films as a function of growth time (15 to 60 minutes) were developed at a temperature of 450 °C through aerosol-assisted chemical vapor deposition (AACVD) using a silver (I) acetate solution. All silver films were characterized using various surface and structural analysis techniques to confirm the phase and stoichiometric purity of the coating. Scanning electrochemical microscopy experiments were conducted to inspect the initial degradation of silver films on 316L SS substrates in simulated body fluid (SBF). Corrosion assessments in the SBF medium indicated that all the coated 316L SS substrates under study exhibited higher corrosion resistance than the uncoated ones; in particular, Ag films grown in 30 minutes showed the highest corrosion resistance among the other silver coatings produced under different conditions. The better corrosion performance of the Ag-30 sample was attributed to the dense, compact silver layer obtained in 30 minutes of deposition utilizing the AACVD technique.
Graphic Abstract
×