04.11.2016 | Ausgabe 1/2017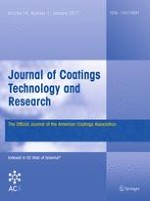 Fabrication, and characterization of polydimethylsiloxane/glycidol-grafted gelatin film
Zeitschrift:
Autoren:

Lei Yue, Jing Li, Wei-Yue Zhu, Jing Xu, Tian-Duo Li
Wichtige Hinweise
Electronic supplementary material
The online version of this article (doi:
10.​1007/​s11998-016-9846-9
) contains supplementary material, which is available to authorized users.
Abstract
Polydimethylsiloxane or glycidol-grafted gelatin films with excellent flexibility and strong hydrophobicity were fabricated by mono epoxy-terminated polydimethylsiloxane (PDMS-E)-grafted gelatin (PGG) and glycidol-grafted gelatin (GGG). Mixed reactive aqueous solutions of PGG and GGG were poured into a Teflon mold. The solutions were dried slowly and eight films were obtained with a thickness of around 200 μm, including gelatin film, PGG film, GGG film, and resulting films at gelatin/PGG/GGG ratios of 2.5:0.5:1.0, 5.0:1.0:1.0, 7.5:1.5:1.0, 10.0:2.0:1.0, and 5.0:1.0:3.0 (weight percentage). The microstructures of these films were confirmed by scanning electron microscopy, attenuated total reflection-Fourier transform infrared spectroscopy, atomic force microscopy, and small-angle X-ray scattering. The influence of the gelatin/PGG/GGG ratios was studied with respect to the hydrophobicity and the mechanical property of the films. The results showed that the contact angle of gelatin-based film increased from 76° to 126° after blending with gelatin, PGG, and GGG at 5.0:1.0:1.0 (weight percentage). Moreover, the elongation at break value of the film reached 3400%. The resulting films showed high flexibility and strong hydrophobicity, which is promising for high-performance coatings.