27.07.2019 | Original Paper: Sol–gel and hybrid materials for biological and health (medical) applications | Ausgabe 1/2019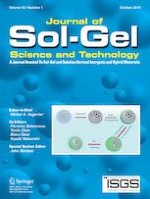 Fabrication of a silica nanocarrier with large-pore core and mesoporous shell for pH-responsive drug delivery
Zeitschrift:
Autoren:

Qianqian Zhang, Zhenying Ge, Binjie Li, Yanbao Zhao
Wichtige Hinweise
Publisher's note:
Springer Nature remains neutral with regard to jurisdictional claims in published maps and institutional affiliations.
Abstract
Core/shell porous silica (CSPS) nanoparticles (NPs) with large-pore core and mesoporous shell were successfully fabricated by a one-pot emulsion method. The obtained CSPS sample presents spherical shape with about 70 nm in diameter, 5 nm in shell thickness, and high-specific surface area of 754.6 m2/g. The large-pore core possesses relatively high drug loading, and the presence of mesoporous shell would effectively suppress the initial burst release. Polyethylenimine (PEI) molecules were introduced and conjugated on the surface of CSPS NPs to seal the drug-loaded pores, and endow it pH-responsive drug releasing. N-(2-mercapto-propionyl) glycine (MPG) was chosen as a model drug to assess the drug loading and releasing behavior of CSPS carrier. Compared with large-pore silica (LPS), the burst release rate of CSPS carrier decreased from 55.1% to 38.2% in normal body fluid pH environment (pH = 7.4). MPG discharging from CSPS followed the first-order kinetics model with high correlation coefficient. CSPS excellent drug-releasing performance makes it as a promising drug carrier in the pharmaceutical field.
×