01.08.2012 | Research Paper | Ausgabe 8/2012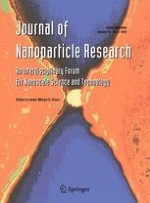 Fabrication of antimicrobial bacterial cellulose–Ag/AgCl nanocomposite using bacteria as versatile biofactory
Zeitschrift:
Autoren:

Chuang Liu, Dong Yang, Yuangui Wang, Jiafu Shi, Zhongyi Jiang
Abstract
In nature, a number of nanocomposites are formed through biomineralization-relevant processes under mild conditions. In the present study, a total "biologic" route to fabricate nanocomposite is reported. Non-pathogenic bacteria,
Gluconacetobacter xylinum,
was utilized as a versatile biofactory, which produced biopolymer bacterial cellulose (BC) and induced the formation of Ag/AgCl nanoparticles, yielding BC–Ag/AgCl nanocomposite. Scanning electron microscopy revealed that nanoparticles with average size of 17.4 nm were randomly embedded into the BC network; transmission electron microscopy and X-ray diffraction confirmed that the nanoparticles were mixtures of face-centered cubic silver and silver chloride nanoparticles. Moreover, the content of silver in the BC nanocomposite is around 0.05 wt%, determined by atomic absorption spectrometry and X-ray photoelectron spectroscopy analysis. The entire process of nanocomposite fabrication was conducted at ambient environment without utilizing toxic agents or producing hazardous products, which is not only environmentally friendly but also with less chances to generate harmful products to human bodies as biomedical materials. The resultant nanocomposite displayed the desirable activity in inhibiting bacterial growth of both Gram-positive
Staphylococcus aureus
and Gram-negative
Escherichia coli
microorganisms on agar plate and in liquid culture, indicating the potential of the material as antimicrobial wound dressing materials. This work demonstrated the feasibility of using microorganism to fabricate nanocomposite, especially for biomedical materials.