02.07.2018 | Electronic materials | Ausgabe 20/2018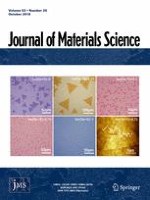 Fabrication of highly electrical conductive composite filaments for 3D-printing circuits
Zeitschrift:
Autoren:

Zuomin Lei, Zhenxing Chen, Huan Peng, Yuqiu Shen, Wenchao Feng, Yi Liu, Zhuo Zhang, Yan Chen
Wichtige Hinweise
Electronic supplementary material
Abstract
For 3D-printing circuits, highly electrical conductive composite filaments were prepared through thin-film transition technique and hot extrusion-drawing. In the filaments, flaky silver powders with nanoscale thickness and smooth flat surface were used as electrical conductive phase, and thermoplastic polyvinyl butyral was used as binder phase. The thermal properties of the electrical conductive composites were studied by thermogravimetric analysis, X-ray diffraction, and Fourier transform infrared spectrophotometric. Results showed that the electrical conductive composites possessed highly thermal stability up to 350 °C. Moreover, the scanning electron microscopy revealed that thin-film transition technique made the flaky silver powders in the cured conductive films present a face-to-face contact pattern and the well-ordered orientation remain in the composite filaments, which could greatly decrease the volume resistivity of composite filaments. The as-prepared composite filaments showed a low volume resistivity of 7.02 × 10−4 Ω cm at only 55 wt% (11.08 vol%) of flaky silver powder filling rate. The solvent-free 3D printing used composite filaments show low volume resistivity and well mechanical properties that prove the potential application in 3D-printing circuits.