04.07.2019 | ORIGINAL ARTICLE | Ausgabe 1-4/2019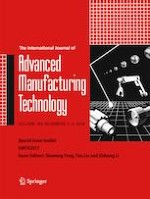 Fabrication of large aspect ratio (LAR) PCD micro-end mill with a hybrid method and performance verification
Autoren:

Jinjin Han, Xiuqing Hao, Liang Li, Ning He, Guolong Zhao, Ni Chen
Wichtige Hinweise
Jinjin Han and Xiuqing Hao contributed equally to this work and should be considered co-first authors.
Publisher's note
Springer Nature remains neutral with regard to jurisdictional claims in published maps and institutional affiliations.
Abstract
Micro-milling technology is a well-developed method in machining the increasingly required micro-grooves. High wear-resistant PCD micro-milling cutters have become the desirable substitute for traditional carbide tools since micro-milling is a highly tool-dependent process. However, the fabrication of PCD micro-milling cutters is difficult due to its high hardness, particularly for those with a larger aspect ratio and a smaller diameter. For these reasons, a hybrid fabrication method combining the laser and precision grinding is proposed to improve the performance and quality of PCD micro-milling cutters. The laser investigations were carried out first to explore the machining mechanism and influence of laser parameters on the initial forming quality. The grinding mechanism of laser-treated PCD was analyzed profoundly. Verification experiments were conducted to compare the cutting performance of the self-fabricated PCD and carbide tools by considering the surface quality and tool wear. Results showed the laser parameters used were directly related to the surface roughness and edge quality of the laser-treated PCD. After the precision grinding, the laser-treated PCD surface became smoother with the areal roughness (
S
a
) of 0.3 μm. A PCD diamond micro-end mill with an aspect ratio of more than 2 was achieved by using the hybrid method. Micro-milling experiments demonstrated that the self-fabricated PCD showed remarkable superiority in terms of surface roughness, burr formation, and tool wear.