23.04.2019 | Chemical routes to materials | Ausgabe 14/2019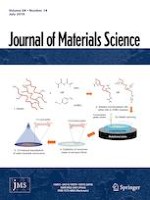 Fabrication of magnetic liquid marbles using superhydrophobic atmospheric pressure plasma jet-formed fluorinated silica nanocomposites
Zeitschrift:
Autoren:

She-Ting Wu, Chih-Chiang Weng, Bor-Ran Li, Chain-Shu Hsu
Wichtige Hinweise
Electronic supplementary material
Publisher's Note
Springer Nature remains neutral with regard to jurisdictional claims in published maps and institutional affiliations.
Abstract
In this study, the surface properties of iron microparticles were modified for the manipulation of liquid droplets using atmospheric pressure plasma jets. These modified hydrophobic iron microparticles were prepared by synthesizing fluorinated silica nanocomposites on the surfaces of iron microparticles under atmospheric pressure plasma. The compositions of the silica nanocomposites were controlled by the deposition of hexamethyldisiloxane and fluoroalkylsilane precursors. The fluorinated silica nanocomposites were then used with iron microparticles to prepare magnetic liquid marbles. The contact angles of the iron microparticles and the fluorinated silica nanoparticle coating on the glass surface were both 154°, which indicated that the surfaces of these particles were superhydrophobic. Higher hexamethyldisiloxane precursor flow rates produced more silica nanocomposites and resulted in greater roughness and larger contact angles. Changes in surface roughness were characterized by atomic force microscopy. X-ray photoelectron spectroscopy showed that C–F bonds were present on the modified glass surface. The presented approach allows rapid and highly efficient modification of uneven surfaces and can therefore be employed to render hydrophilic, superhydrophobic, and oleophilic surfaces. Moreover, the described hydrophobic iron microparticles can be used for the controlled magnetic manipulation of water droplets and oil–water separation.