05.10.2017 | Energy materials | Ausgabe 3/2018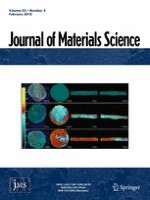 Fabrication of nano-sized attapulgite-based aerogels as anode material for lithium ion batteries
Zeitschrift:
Autoren:

Ye Lan, Dajun Chen
Wichtige Hinweise
Electronic supplementary material
The online version of this article (doi:
10.​1007/​s10853-017-1623-3
) contains supplementary material, which is available to authorized users.
Abstract
Silica-based material is regarded as one of the most potential anode materials for lithium ion batteries (LIBs) because of its high specific capacity, low discharge potential, and inexpensive cost. However, low conductivity and poor mechanical property block its practical application. In this work, we adopted a facile method to prepare attapulgite (AT)/polyacrylonitrile (PAN) aerogel precursor and then the precursor was pre-oxidated and carbonized. The natural porous AT with nanofiber structure was used to provide high specific capacity. In addition, PAN was introduced to improve mechanical performance and enhance the electrochemical conductivity. This feasible method could form in situ continuous carbonized phase network structure, which impeded large volume expansion and improved electrochemical performance. As active anode materials of LIBs, the carbonized AT-based aerogels exhibited average discharge capacity of 534.6 mAh g−1 at 100 mA g−1 after 50 cycles and Coulombic efficiency reached over 97%. Overall, the fabrication approach is cost-effective and can be used on a large scale, which may fully take advantage of low-cost AT clay and PAN.