21.12.2016 | Original Paper | Ausgabe 7/2017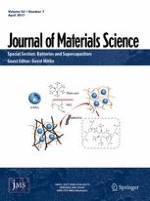 Fabrication of one-dimensional CdFe2O4 yolk/shell flat nanotubes as a high-performance anode for lithium-ion batteries
Zeitschrift:
Wichtige Hinweise
Electronic supplementary material
The online version of this article (doi:
10.​1007/​s10853-016-0672-3
) contains supplementary material, which is available to authorized users.
Abstract
Spinel ferrite CdFe2O4, one of the binary transition metal oxides, has been endowed with extreme expectation to be a preferable anode material for lithium-ion batteries (LIBs) due to the presence of the alloy (Li3Cd) during the process of Li-ion intercalation. In this work, one-dimensional CdFe2O4 yolk/shell flat nanotubes were fabricated by the facile single-spinneret electrospinning technique. The unique CdFe2O4 structure was constituted by an outer CdFe2O4 flat nanotube and a loose yolk fiber and was clearly shown in the images of the field-emission scanning electron microscopy and transmission electron microscopy. The essential properties of the nanoribbons, such as morphologies, structures, crystalline phases, chemical compositions, and pore properties were further investigated and characterized. As an anode for LIBs, the CdFe2O4 yolk/shell flat nanotubes delivered a large reversible capacity of 720 mA h g−1 even after 420 cycles at current density of 200 mA g−1 with excellent stability and good rate performance. The remarkable performances of the new material on the electrochemical Li-storage are ascribed to the high Li-ion and electron-transfer efficiency and the excellent stability, profiting from its unique continuous one-dimensional yolk/shell flat nanotube structure.