10.11.2016 | Ausgabe 5/2017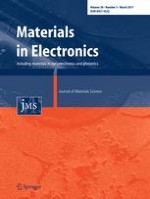 Fabrication of user-defined copper conductive patterns onto paper substrate for flexible electronics by combining wax patterning with electroless plating
Autoren:

Lei Hou, Hang Zhao, Yinxiang Lu
Wichtige Hinweise
Electronic supplementary material
The online version of this article (doi:
10.​1007/​s10854-016-6044-6
) contains supplementary material, which is available to authorized users.
Abstract
In this paper, user-defined copper conductive patterns were successfully fabricated via electroless deposition onto paper substrate by using a four-step treatment process. The pristine paper samples are first dipped in 3-aminopropyltrimethoxysilane (APTMS) solution to form a uniform layer for the subsequent absorption of gold nanoparticles. Then the paper samples were wax patterned and immersed in gold nanoparticles solution in preparation for the next step electroless deposition. Herein, wax pattern was achieved via a stylus printer to print desired stencil dot matrix, which acted as hydrophobic channels, onto the paper substrate. FT-IR measurement, ultrasonic washing test and Scotch®-tape test were utilized to investigate the interaction mechanism between APTMS molecules and paper substrate. Contact angle measurement demonstrated that the hydrophobic surface of wax patterned paper. SEM images showed that the thickness of copper conductive patterns was estimated to be 2.44 μm, which was corresponding well with Surface Profiler measurement. X-ray diffraction analysis showed that the copper films deposited on paper substrate has a structure with Cu (1 1 1) preferred orientation and the resistivity of Cu patterns measured by a digital four-point probe was 6.8 µΩ cm, which was 4.2 times of the bulk Cu. Notably, only one cycle of printing wax on paper substrate could successfully regulate the deposition area of Cu films. Those above advantages make this method a promising candidate for applications in constructing functional flexible electronic devices.