23.05.2020 | Ausgabe 8/2020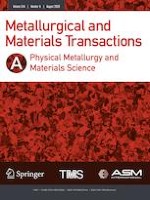 Fabrication of Wear-Resistant Ti3AlC2/Al3Ti Hybrid Aluminum Composites by Friction Stir Processing
Zeitschrift:
Autoren:

H. C. Madhu, Vimal Edachery, K. P. Lijesh, Chandra Shekhar Perugu, Satish V. Kailas
Wichtige Hinweise
Manuscript submitted June 24, 2019.
Publisher's Note
Springer Nature remains neutral with regard to jurisdictional claims in published maps and institutional affiliations.
Abstract
Hybrid nanocomposites have potential as wear-resistant materials. However, synthesizing these nanocomposites by conventional molten state methods result in agglomeration of reinforcements. To mitigate this issue, in the current study hybrid aluminum nanocomposites were synthesized using friction stir processing (FSP). For this, two blends of titanium and graphite particles were used as reinforcements. These composites were characterized using a stereo microscope, scanning electron microscope, electron probe micro analyzer, X-ray diffraction, and microhardness indenter. During FSP, ternary carbide (Ti
3
AlC
2
) and intermetallic (AlTi
3
) were formed
in situ
. These compounds improved the hardness of the composites up to four times. Further, these
in situ
composites were subjected to wear test using pin-on-disk tribometer at various sliding speeds. Polycrystalline alumina disks were chosen as counterface to minimize chemically induce wear. The wear rate of the composites was 5 to 13 times lower than that of the base metal. This excellent resistance to wear in composites was attributed to improved resistance to abrasion and delamination. Furthermore, it was seen that the dominant wear mechanism of the composites changed from abrasive to adhesive wear as the sliding speed increased.