02.07.2018 | Composites | Ausgabe 20/2018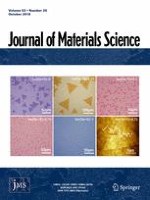 Facile fabricate a bioinspired Janus membrane with heterogeneous wettability for unidirectional water transfer and controllable oil–water separation
Zeitschrift:
Autoren:

Cheng Zhang, Shuai He, Dingfei Wang, Fang Xu, Fengxiu Zhang, Guangxian Zhang
Wichtige Hinweise
Electronic supplementary material
Abstract
A novel smart Janus membrane for unidirectional water transfer and oil–water separation is facilely fabricated by coating graphene nanoplatelets (GNs) onto one side of polyethylene terephthalate (PET) fabric through high-temperature and high-pressure method and subsequently grafting phosphoric acid (HP) into the other side of PET fabric. Results suggest that the prepared HP–PET–GNs Janus membrane with heterogeneous surface wettability attributed to the hierarchical structure of membrane shows special unidirectional water transfer property. The water droplet can penetrate across the membrane from the GNs-coated (hydrophobic) side to the HP-grafted (hydrophilic) side, and be blocked to pass through the membrane from hydrophilic side to hydrophobic side. Moreover, the HP–PET–GNs Janus membrane is found to have the maximum water flux and separation efficiency of 2073 ± 207 Lm−2h−1 and 99.5 ± 0.2% for methylbenzene–water mixture, and the maximum oil flux and separation efficiency of 3113 ± 52 Lm−2h−1 and 99.6 ± 0.1% for carbon tetrachloride–water mixture, respectively. The water separation efficiency and oil separation efficiency could arrive at 99.0 ± 0.1 and 99.3 ± 0.2% even after 10 separation cycles, respectively. It is revealed that the obtained Janus membrane has excellent separation capability for separating the layered oil–water mixtures and possesses wonderful recyclability.