26.11.2019 | Chemical routes to materials | Ausgabe 10/2020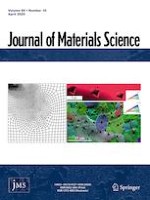 Facile fabrication of biomimetic slippery lubricant-infused transparent and multifunctional omniphobic surfaces
Zeitschrift:
Autoren:

Mengnan Yu, Mingming Liu, Yuanyuan Hou, Shaohai Fu, Liping Zhang, Min Li, Dong Wang
Wichtige Hinweise
Electronic supplementary material
Publisher's Note
Springer Nature remains neutral with regard to jurisdictional claims in published maps and institutional affiliations.
Abstract
Omniphobic coatings which can efficiently diminish the interfacial reactions between the underlying substrates and foreign liquids present broad technological impacts and enormous potential applications, whereas the current prepared superamphiphobic surfaces are constrained to their weak robustness owing to the vulnerability of the sophisticated hierarchical structures. Herein, we employed oxidative polymerization method to graft polyaniline (PANI) nanofibers on arbitrarily shaped surfaces that further modified with perfluoroalkylthiol and infiltrated with perfluoropolyether lubricant, constructing a slippery lubricant-infused porous surfaces (SLIPS). With the enlargement of the polymerization time, the coverage degree of PANI coating on the glass surface gradually increased and their transmittance reduced simultaneously. Meanwhile, the influences of the structure geometry and surface chemistry on the slippery behavior of foreign liquids on the SLIPS were investigated, further verifying that the synergetic effect of the adequate texture roughness and matched surface chemistry is the prerequisite for preparing steady and defect-free lubricant layer. Moreover, the prepared SLIPS could be applied in various promising applications such as anti-fogging, anti-fingerprint, three-dimensional droplet manipulation and crude-oil lossless transportation. More importantly, the lubricant layer remained stable on the surfaces after long-term storage in high/low temperature, water immersion and ultraviolet irradiation, and displayed superior mechanical resistance to water impact, sandpaper abrasions and knife scratches. Therefore, this strategy for fabricating nepenthes-inspired lubricant-infused surfaces is expected to further promote the cognition and manufacture of multifunctional omniphobic materials.