17.05.2018 | Chemical routes to materials | Ausgabe 16/2018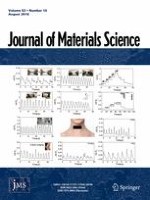 Facile fabrication of hierarchical BiVO4/TiO2 heterostructures for enhanced photocatalytic activities under visible-light irradiation
Zeitschrift:
Autoren:

Liang Shi, Chonglei Xu, Xun Sun, Hua Zhang, Zhaoxin Liu, Xiaofei Qu, Fanglin Du
Wichtige Hinweise
Electronic supplementary material
Abstract
BiVO4/TiO2 nanocomposites were fabricated by a facile wet-chemical process, followed by the synthesis of TiO2 hierarchical spheres via hydrothermal method. The BiVO4/TiO2 nanocomposites were characterized by X-ray diffraction, scanning electron microscopy, transmission electron microscopy, UV–Vis diffuse reflectance spectroscopy and X-ray photoelectron spectroscopy. The results showed that prepared TiO2 presented hierarchical spherical morphology self-assembled by nanoparticles and an anatase–brookite mixed crystal phase. The introduction of monoclinic BiVO4 components retained the hierarchical structures and expanded the light response to around 510 nm. Type II BiVO4/TiO2 heterostructured nanocomposites exhibited improved photocatalytic degradation towards methylene blue under visible-light irradiation, especially for the composite photocatalysts with atomic Ti/Bi = 10, which showed double degradation rate than that of pure BiVO4. The enhanced photocatalytic mechanism of the heterostructured BiVO4/TiO2 nanocomposites was discussed as well.