01.03.2015 | Short Communication | Ausgabe 3/2015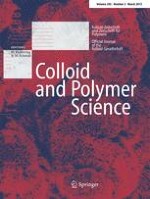 Facile fabrication of multihollow polymer microspheres via novel two-step assembly of P(St-
co

-

n

BA-

co

-AA) particles
Zeitschrift:
Autoren:

Chunmei Li, Jiaojun Tan, Yali Liu, Baoliang Zhang, Xinlong Fan, Qiuyu Zhang
Abstract
A novel two-step assembly method was found and was used to fabricate special multihollow polymer microspheres. Firstly, monodisperse colloidal particles of poly(styrene-
co
-(
n
-butyl acrylate)-
co
-acrylic acid) (P(St-
co
-
n
BA-
co
-AA)) were synthesized by soap-free emulsion polymerization and the obtained emulsion was transferred to 1-octanol to form colloidosomes which were stabilized by Span 80 and the colloidal particles via assembling at the interface of water/oil. Secondly, the multihollow polymer microspheres were successfully fabricated by heat aggregation and fusion of the aforementioned colloidosomes and colloidal particles. The two-step assembly mechanism was revealed and explained based on the morphologies of multihollow polymer microspheres formed under different emulsifier amounts and sintering conditions.