02.01.2019 | Chemical routes to materials | Ausgabe 7/2019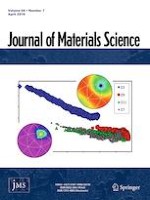 Facile in situ fabrication of Co nanoparticles embedded in 3D N-enriched mesoporous carbon foam electrocatalyst with enhanced activity and stability toward oxygen reduction reaction
Zeitschrift:
Autoren:

Chunyang Xu, Zheng Lin, Dian Zhao, Yulin Sun, Yijun Zhong, Jiqiang Ning, Changcheng Zheng, Ziyang Zhang, Yong Hu
Wichtige Hinweise
Electronic supplementary material
Abstract
Oxygen reduction reaction (ORR) is a crucial reaction for various energy conversion and storage devices, but the sluggish kinetics and the usage of noble metals greatly restrict its practical device applications. In this work, a well-designed high-performance catalyst for ORR was synthesized via a facile one-step Co-MOF carbonization method, in which Co-MOF was prepared using the cobalt acetate tetrahydrate and 2,2′-bipyridyl-5,5′-dicarboxylic acid (H2bpydc) as the only raw materials and H2bpydc as the favorable carbon and nitrogen source for in situ nitrogen doping and metallic cobalt reduction. The resultant 3D mesoporous carbon foam catalyst with embedded Co nanoparticles (CoN–CF) is enriched with nitrogen, which exhibits high specific surface area and abundant N-doping active sites for catalytic ORR. In particular, the optimized CoN–CF-700 sample displays the best catalytic performances including onset potential of 0.94 V, half-wave potential of 0.85 V, long-term durability and superior resistance to methanol poisoning. The demonstrated synthetic strategy provides a new insight into easy-synthesis and high-economy routes for metal–N–C catalysts and a deeper understanding of the effects of microstructures on catalytic mechanisms.