03.07.2019 | Original Paper: Nano- and macroporous materials (aerogels, xerogels, cryogels, etc.) | Ausgabe 3/2019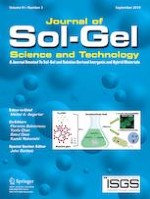 Facile preparation of HNT/PVOH aerogels and the construction of PVOH-assisted HNT three-dimensional network
Zeitschrift:
Autoren:

Hongli Liu, Shixiong Li, Hongyan Li, Xiang He, Jing Li, Yajing Li
Wichtige Hinweise
Publisher's note:
Springer Nature remains neutral with regard to jurisdictional claims in published maps and institutional affiliations.
Abstract
Halloysite nanotube/polyvinyl alcohol (HNT/PVOH) aerogel composites have been successfully prepared via an environmentally friendly freeze-drying process, by using water as solvent and borax solution as a cross-linking agent. These aerogel composites have a three-dimensional network structure formed by PVOH adhered to HNTs. The microstructure of aerogels and the interface adhesion between HNTs and PVOH were investigated by scanning electron microscopy and transmission electron microscopy. Meanwhile, thermal conductivity, compressive strength, and thermal stability were measured by related instruments. The results showed that HNT/PVOH aerogels were successfully synthesized and that HNTs firmly connected to PVOH played the role as a skeleton for aerogels and effectively enhanced the mechanical properties. As the content of HNTs increased, the obtained aerogel materials exhibited a decrease in thermal conductivity, an increase in compressive strength, an improvement in thermal stability, and formation of a locally dense PVOH network. Moreover, microstructure models were established by electron microscopic images to analyze the results in detail. Importantly, there is no need for the formation of block hydrogel during the synthetic process and these HNT/PVOH aerogel composites could be fabricated easily and quickly from cheap raw materials, contributing to large-scale production.
×