13.10.2016 | Original Paper | Ausgabe 4/2017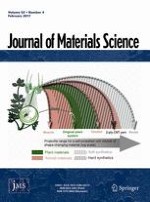 Facile synthesis of cationic polymer functionalized nanodiamond with high dispersity and antibacterial activity
Zeitschrift:
Autoren:

Weiwei Cao, Xuefeng Peng, Xiaoqin Chen, Xi Wang, Feng Jin, Qiang Li, Huinan Chen, Chao Jiang, Zhiwen Ye, Xiaodong Xing
Abstract
In this work, a cationic polymer, N-alkylated poly (4-vinylpyridine) was applied for the surface functionalization of nanodiamond (ND). The facile route not only settled the problems of agglomeration and poor dispersion stability of ND but also rendered the nanomaterial antibacterial property. Chemical modification of the particles was confirmed by FT-IR spectroscopy and
1
HNMR, and the cationic polymer contents were determined by TGA studies. The particle diameters and dispersity of functionalized NDs were investigated by TEM and DLS measurements. It was found that extremely tight core aggregates (100–200 nm) were broken into tiny nanoparticles (20–30 nm) through functionalization with NPVP-propyl or NPVP-hexyl, which gave stable and homogeneous functionalized ND particles in colloidal solution. The antibacterial tests against Gram-positive
Staphylococcus aureus
(
S. aureus
) and Gram-negative
Escherichia coli
(
E. coli
) showed that the cationic polymer-modified ND exerted certain antibacterial activity. The FE-SEM images indicated that NPVP-hexyl-ND particles were attached to the cell wall surface of
E. coli
, which subsequently led to the formation of nanoscale holes on cell membrane and eventually the serious destruction of cell wall. We suspected that the interaction of NPVP-hexyl-ND with bacteria may come from the electrostatic interactions, the intermolecular and surface forces between functionalized nanoparticles and cell membranes, which may damage the outer membranes of bacteria and result in cell death.