24.06.2019 | Ausgabe 14/2019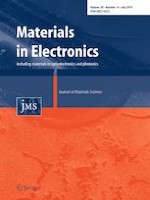 Facile synthesis of highly efficient V2O5@NiCo2O4 as battery-type electrode material for high-performance electrochemical supercapacitors
Autoren:

Tae-Yong Park, Chandu V. V. Muralee Gopi, Rajangam Vinodh, Hee-Je Kim
Wichtige Hinweise
Electronic supplementary material
Chandu V. V. Muralee Gopi and Hee-Je Kim have contributed equally to this work.
Publisher's Note
Springer Nature remains neutral with regard to jurisdictional claims in published maps and institutional affiliations.
Abstract
Herein, we have designed and prepared the battery-type redox behavior enabled hybrid V2O5@NiCo2O4 heterostructures on nickel foam by a simple one-step chemical bath deposition method. The structural and compositional analyses confirmed the presence of V2O5 and NiCo2O4 in the as-prepared hybrid V2O5@NiCo2O4 composite. The electrochemical studies reveal that the V2O5@NiCo2O4 composite electrode exhibited a high specific capacity of 184.49 mA h g−1 at 1 A g−1 and excellent rate capability of 88.5% at 12 A g−1 with good cycling stability (94.3% capacity retention over 3000 cycles), which are superior to the NiCo2O4 electrode. The results demonstrate that the hybrid V2O5@NiCo2O4 composite have a wide range of applications in the energy storage field.