03.05.2017 | Original Contribution | Ausgabe 6/2017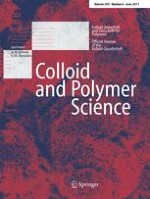 Facile tailor-made enhancement in proton conductivity of sulfonated poly(ether ether ketone) by graphene oxide nanosheet for polymer electrolyte membrane fuel cell applications
Zeitschrift:
Autoren:

Hye-Ri Jang, Eun-Sil Yoo, Ramanujam Kannan, Jong-Suk Kim, Kieseung Lee, Dong Jin Yoo
Wichtige Hinweise
Electronic supplementary material
The online version of this article (doi:
10.​1007/​s00396-017-4095-8
) contains supplementary material, which is available to authorized users.
Hye-Ri Jang and Eun-Sil Yoo contributed equally.
Highlights
(i) Graphene oxide incorporated SPEEK membrane as the electrolyte of PEMFC.
(ii) Improved interfacial interactions tune the thermal stabilities of the composites.
(iii) Graphene oxide incorporation effectively improved the physiochemical and thermal properties of composite membranes.
(iv) Proton conduction properties of the SPEEK was enhanced by increasing the degree of sulfonation.
(v) Graphene oxide distribution throughout the cross section of the membrane improved the physical integrity of the membranes.
Abstract
Sulfonated poly(ether ether ketone) and graphene oxide nanocomposite-based polymer electrolyte membranes were prepared by facile solution casting method, and their applications for single cell were investigated. The degree of sulfonation played an important role in the proton conductivity of polymer electrolytes. Thus, we studied both the low and high degree of sulfonated poly ether ether ketones (SPEEKs) as composite with amphiphilic graphene oxide nanosheets (GNSs). The obtained results on water uptake and swelling profile showed that the physical and chemical properties of polymer electrolytes significantly improved after insertion of GNS. Morphological properties of the fabricated membranes were investigated with field emission scanning electron microscopy (FE-SEM), and the equal dispersion of GNS sheets throughout the cross section of polymer matrix was observed. The temperature-dependent conductivity reveals that SPEEK-GNS composite showed improved proton conductivity compared to pure SPEEK, because of the high degree of dispersion of GNS thus facilitated the extension of proton transport channels. Best enhancement in conductivity is observed for composite membrane containing 1.0 wt% of GNS, i.e., 149 mS cm−1.
×