2020 | OriginalPaper | Buchkapitel
5. Facing Cultural and Education Challenges at the EU Level: Fragmentation and Multiple Solutions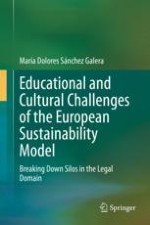 Erstes Kapitel lesen
Autor: María Dolores Sánchez Galera
Abstract
Global administrative law has gone through a remarkable process of consolidation in the last years. However, such top-down approaches are not facilitating the paradigm shift our society needs under ecological premises. This chapter starts highlighting some parts of the ecological transition which have rarely been assembled, and it tries to explore specific alternative ways of integrating sustainability contents into educational curricula and, more broadly, of moving towards a holistic, ecologically aware notion of education. There is not a unique institutionalised solution to mainstream policy action in culture and education to facilitate social empowerment, trust and a sense of shared responsibility to lead transformations towards a truly ecological transition in Europe. This has favoured many other pathways. We face fragmented normative realities prompting us to fall into the 'illusion' of counting with a wealthy array of multiple solutions to face hard ecological consequences in the Anthropocene, but the results is a 'handful' of rhetorical discourses (see Sect.
5.2
). EU action in these fields has shown to be a valid normative level to push for further engagement despite of the prevalence of soft law instruments (see Sect.
5.3
). The last part of the chapter focuses on some cases which show that the paradigm shift the book advocates is not just a hypothetical theory: it has been implemented, mainly at local level, in a few best practices experiences. This bottom-up analysis reveals that the marketisation, capitalisation and digitalisation of culture and education can be successfully counterbalanced. Some case studies give evidence of subtle and extended processes of change in Europe contrasting top down approaches and presenting alternative narratives of success in small-scale dimension (see Sect.
5.4
.).