23.03.2016 | Ausgabe 6/2016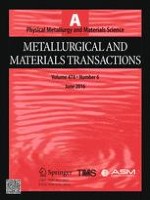 Factors Affecting the Inclusion Potency for Acicular Ferrite Nucleation in High-Strength Steel Welds
Zeitschrift:
Autoren:

Yongjoon Kang, Seonghoon Jeong, Joo-Hee Kang, Changhee Lee
Wichtige Hinweise
Manuscript submitted October 12, 2015.
Abstract
Factors affecting the inclusion potency for acicular ferrite nucleation in high-strength weld metals were investigated and the contribution of each factor was qualitatively evaluated. Two kinds of weld metals with different hardenabilities were prepared, in both, MnTi2O4-rich spinel formed as the predominant inclusion phase. To evaluate the factors determining the inclusion potency, the inclusion characteristics of size, phase distribution in the multiphase inclusion, orientation relationship with ferrite, and Mn distribution near the inclusion were analyzed. Three factors affecting the ferrite nucleation potency of inclusions were evaluated: the Baker–Nutting (B–N) orientation relationship between ferrite and the inclusion; the formation of an Mn-depleted zone (MDZ) near the inclusion; and the strain energy around the inclusion. Among these, the first two factors were found to be the most important. In addition, it was concluded that the increased chemical driving force brought about by the formation of an MDZ contributed more to the formation of acicular ferrite in higher-strength weld metals, because the B–N orientation relationship between ferrite and the inclusion was less likely to form as the transformation temperature decreased.