01.09.2013 | Ausgabe 11/2013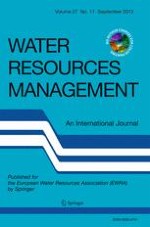 Factors Influencing Markov Chains Predictability Characteristics, Utilizing
SPI

,

RDI

,

EDI

and

SPEI

Drought Indices in Different Climatic Zones
Zeitschrift:
Autoren:

Seyed Adib Banimahd, Davar Khalili
Abstract
Comparability analyses were carried out to investigate behavioural aspects of effective drought index (
EDI
), standardized precipitation index (
SPI
), reconnaissance drought index (
RDI
) and standardized precipitation evapotranspiration index (
SPEI
), considering 3-month, 6-month and annual time periods. Investigations included parametric/non-parametric correlation analysis among indices, climatic zone influence, record length impacts and evapotranspiration role (
RDI
and
SPEI
) on Markov chains predictability characteristics. Except for the
EDI
, all indices/cases (all climatic zones) showed significant correlation. In arid/semi-arid climates, the 3-month and 6-month maximum drought severities were detected by the
RDI
and annual maximum drought severities were detected by the
SPEI
, emphasizing the evapotranspiration influence. In all climatic zones, the
EDI
values for wet (dry) periods were higher (lower), compared to other indices. First order dependency was detected for the
EDI
(all cases) and the
SPI
(most cases), over entire period (1951–2011) and sub-periods [(1951–1981), (1982–2011)]. The largest number of second order dependency was detected by the
SPEI
, followed by a relatively large number of such cases by the
RDI
(3-month time period), for the 61-year data period. This research showed that several factors influence Markov chains predictability characteristics in drought studies, particularly the impact of record length and evapotranspiration (
RDI
and
SPEI
) were confirmed.