01.12.2016 | Original Paper | Ausgabe 3/2016 Open Access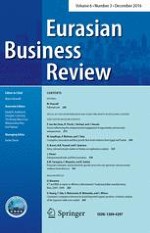 Factors influencing the entrepreneurial engagement of opportunity and necessity entrepreneurs
Zeitschrift:
Autoren:

Peter van der Zwan, Roy Thurik, Ingrid Verheul, Jolanda Hessels
Wichtige Hinweise
The original version of this article was revised: Due to a technical mistake in Table
3
the asterisks were placed after the second value (standard errors) instead of after the first value (coefficient). In addition there should have been parentheses around the second values (standard errors) in lines. The publisher apologizes for this mistake.
Abstract
The scholarly literature often distinguishes between so-called opportunity and necessity entrepreneurship and between "pull" and "push" motivations. Despite the pervasive use of this terminology, empirical analyses are mostly based on a single country. The present paper contributes by investigating business owner survey data for the United States and 32 countries in Europe and Asia. We analyze the differences between business owners motivated by opportunity and necessity in terms of their (1) socioeconomic characteristics, (2) personality, and (3) perceptions of entrepreneurial support. Descriptive statistics reveal that the two groups of business owners have very different profiles along these three dimensions. Moreover, multinomial logit regressions indicate that the determinants of business ownership (versus paid employment) differ for opportunity and necessity business ownership. A specific result of the present study (covering all 33 countries) is that the probability of being an opportunity versus a necessity business owner is higher for male, younger, wealthier, proactive, and optimistic business owners. Furthermore, those who prefer being a business owner and those who have more favorable perceptions of financial start-up support are more likely to be an opportunity versus a necessity business owner.