03.07.2019 | Ausgabe 2/2020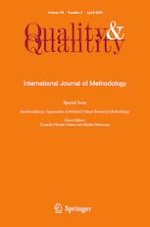 Fakers becoming believers: how opinion dynamics are shaped by preference falsification, impression management and coherence heuristics
Zeitschrift:
Autoren:

Francisco J. León-Medina, Jordi Tena-Sánchez, Francisco J. Miguel
Wichtige Hinweise
Ceux qui niaient le christianisme élevant la voix et ceux qui croyaient encore faisant silence, il arriva ce qui s'est vu si souvent depuis parmi nous, non seulement en fait de religion, mais en toute autre matière. Les hommes qui conservaient l'ancienne foi craignirent d'être les seuls à lui rester fidèles, et, redoutant plus l'isolement que l'erreur, ils se joignirent à la foule sans penser comme elle. Ce qui n'était encore que le sentiment d'une partie de la nation parut ainsi l'opinion de tous, et sembla dès lors irrésistible aux yeux mêmes de ceux qui lui donnaient cette fausse apparence (Tocqueville et al.
1856
: 152).
Publisher's Note
Springer Nature remains neutral with regard to jurisdictional claims in published maps and institutional affiliations.
Abstract
In the vast and rich literature on opinion dynamics, the role of preference falsification has generally been dismissed. Following the lead of Timur Kuran, in this paper we present one of the first multi-agent models that explores how opinion dynamics can be affected by the possible divorce between private and public opinions. It is also the first attempt to explore the role of social hierarchies in opinion dynamics conditioned by preference falsification. Our model formalizes heterogeneous evolving agents guided by a cognitively feasible set of heuristics and embedded in a social-rank-dependent structure of interactions. In social-rank-heterophilic encounters where people experience a high pressure of face-to-face interactions, unanimous support for the high social-rank preferred option emerges, while in any other scenario this option gathers majority but not unanimous support. Preference falsification has a crucial role in the emergence of unanimity, but it also creates the conditions for further private opinion actualizations that end up generating a self-sustained and sincere unanimity. When social-rank-homophilic encounters are the rule, or when group dynamics are irrelevant for opinion expression, agents never find incentives to falsify their opinions, therefore generating a social situation that resembles the general idea behind the ethnographic work of James C. Scott: true opinion expression in daily social-rank-homophilic encounters and a persistent opinion falsification in dissimilar social-rank interactions.