2019 | OriginalPaper | Buchkapitel
8. Fan Entrenchment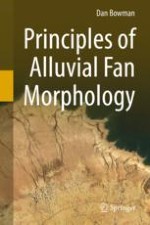 Erstes Kapitel lesen
Autor: Dan Bowman
Verlag: Springer Netherlands
Abstract
When erosional processes start to control and reshape the fan, its original aggradational form is gradually modified. The power to erode is controlled by the absolute mass density, by the mean flow depth, by the gravity gradient, and by the flow velocity. All variables, if increased, favor the transportation of sediments. Channelized flows attain greater flow depth and higher shear stress enabling more efficient sediment transport.
Water/sediment discharge ratio determines whether stream power exceeds the critical power required to enable erosion. High water/sediment ratio that enables erosion may result from entrapping sediments or when fan sourcing comes to an end as a product of aging. For any streamflow and sediment load, there is a threshold slope at which entrenchment will be initiated.
Fan surface entrenchment ranges from shallow fan-head trenching which is prone to backfilling, to deep, through-fan entrenchment which leaves the fan surface inactive. The entrenched channels are more moderate-sloped, reflecting the trend toward reestablishment of grade. Lateral erosion and widening of deeply incised channels may eliminate with time large sections of the fan.