01.09.2019 | Original Article | Ausgabe 17/2019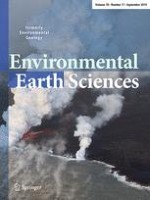 Farmland dynamics in Pingtan, China: understanding its transition, landscape structure and driving factors
Zeitschrift:
Autoren:

Eshetu Shifaw, Jinming Sha, Xiaomei Li, Zhongcong Bao, Asmamaw Legass, Marye Belete, Jianwan Ji, Yung-Chih Su, Amsalu K. Addis
Wichtige Hinweise
Publisher's Note
Springer Nature remains neutral with regard to jurisdictional claims in published maps and institutional affiliations.
Abstract
The knowledge of farmland dynamics is pivotal to design its management sustainably and enhance food security. Using remote sensing and socioeconomic data, this paper analyses farmland transition, its landscape structure, and the associated drivers in Pingtan Island. The results revealed that the decline of farmland was much faster (317 ha/year) compared with its expansion (106.9 ha/year) during the study period. Across periods, farmland experienced a moderate-to-very rapid intensity of change. It tends to lose than to persist and its stable part decreased continuously. The changed part of farmland was largely attributable to the swap changes than that of the net change. Both its inward and outward conversions were generally limited to a few dominant cover types that include urban, shrub, forest and grassland. In response to farmland shrinkage and the increase of labour wages in other economic sectors, farmers have engaged in off-farm activities to support their economy, besides the compensation they owned from the government. The shape complexity and the variability of size among farmland patches showed a decrease. Except in the first period; however, the level of disintegration among patches increased successively. Both expanded and stable part of farmland exhibited more dispersed spatial configuration than that of the decreased part in the last two decades (1996–2017). Farmland change was significantly influenced by factors such as GDP, wage, per capita GDP, road expansion and the total population in the first component of a regression model (C1) that contains the highest proportion of variance in both dependent and explanatory variables (≥ 72%). Policies of ecological management and economic development also accelerated farmland decline, which calls for its stricter protection policies. The result of this study would serve as the baseline information for farmland management in the study area and as a reference for future studies.