2019 | OriginalPaper | Buchkapitel
Fashion Brand and Retailer Collaborations: An Effective Strategy to Favorably Change Consumers' Brand Evaluations: An Abstract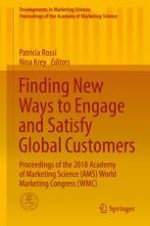 Erstes Kapitel lesen
Autoren: Michelle Childs, Byoungho Jin
Abstract
A rapidly growing trend within fashion retailing is brands collaborating with retailers to offer exclusive partnership collections that vary in duration (i.e., ongoing vs. limited edition) (Ginman et al. 2010; Kim et al. 2014; Rollet et al. 2013). A recent vivid example of this limited edition strategy is Lilly Pulitzer's collaboration with Target. An additional critical factor for the success of a brand when it collaborates with a retailer is the notion of perceived fit (Wang et al. 2015). Perceived fit, the extent to which consumers accept new products as logical and expected from a brand (Tauber 1988), is vital in the case of collaborations because if the partner is poorly chosen (i.e., low fit exists), it can damage consumers' brand appraisals, as demonstrated by the failed partnership between Neiman Marcus and Target in 2013 (Thau 2013; White 2013). Such opportunities for growth and publicity may be enticing in brand and retailer collaborations, and pursuing them may change consumers' evaluation of the brand.
Utilizing commodity and categorization theory, three experimental studies (
n
= 507) test how a brand may successfully approach a retailer collaboration. Specifically, this research tests the effect of collaboration duration (limited edition vs. ongoing) and degree of brand-retailer fit (high vs. low) on changes in consumers' brand evaluations following a collaboration. Results reveal that consumers' evaluations of brands become more favorable when (a) brand-retailer collaborations make products available on a limited edition (vs. ongoing) basis (Study 1), (b) consumers perceive a high (vs. low) degree of brand-retailer fit (Study 2), and (c) both conditions are true (Study 3).
This empirical investigation contributes to the literature by verifying the effects of a limited edition strategy on changes in consumers' evaluations of brands following collaborations with retailers and theoretically extends the notion of perceived fit. Results from this study will be also useful to assist brand managers to develop more effective brand-retailer collaboration strategies. Specifically, we recommend that brands engage in limited edition, rather than ongoing collaborations with retailers. Additionally, this study indicates that both high-end and low-end brands need to carefully manage their collaborations and choose retail partners that are perceived by consumers to fit with the brand's image. We recommend that high-end brands collaborate with high-end retailers and low-end brands collaborate with low-end retailers to enhance consumers' evaluations of brands.
References Available Upon Request