01.09.2014 | Original Article | Ausgabe 5/2014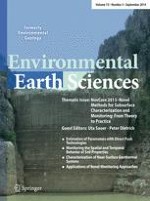 Fate and transport of pollutants through a municipal solid waste landfill leachate in Sri Lanka
Zeitschrift:
Autoren:

S. S. R. M. D. H. R. Wijesekara, Sonia S. Mayakaduwa, A. R. Siriwardana, Nalin de Silva, B. F. A. Basnayake, Ken Kawamoto, Meththika Vithanage
Abstract
This study focuses on the characterization of leachate generated from Gohagoda dumpsite in Kandy, Sri Lanka, assessment of its spatial and temporal variations, and identification of subsurface canals and perched water bodies in the wetland system affected by the leachate flow. Leachate samples were collected monthly throughout dry and rainy seasons from different points of the leachate drainage channel over a period of 1 year and they were tested for quality parameters: pH, temperature, electrical conductivity, total dissolved soils, alkalinity, hardness, total solids, volatile solids, total suspended solids, volatile suspended solids, biochemical oxygen demand (BOD
5
), chemical oxygen demand, nitrate-nitrogen, nitrite-nitrogen, phosphates, ammonium-nitrogen, chloride, dissolved organic carbon, total organic carbon and heavy metals. Sequential soil extraction procedures were performed for the characterization of leachate-affected local soil. A geophysical survey using direct current resistivity technique was conducted at locations downstream of the dumpsite. Leachate characteristics indicated that the leachate is in the methanogenic phase and the results strongly suggest that the leachate may be polluting the river where the leachate is discharged directly. Leachate exceeds the allowable limits of Sri Lankan wastewater discharge standards for many of the parameters. Significant difference (
P
< 0.05) was observed for most of organic and inorganic parameters among all sampling locations. Many parameters showed a negative correlation with pH. The affected soils showed high heavy metal concentrations. Resistivity study confirmed a confined leachate flow at the near surface with few subsurface canals. However, no separate subsurface plume movement was observed. The results of this research can effectively be used for the establishment of an efficient and effective treatment method for the Gohagoda landfill leachate.