2012 | OriginalPaper | Buchkapitel
13. Fatigue and Creep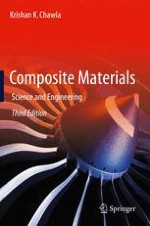 Erstes Kapitel lesen
Autor: Krishan K. Chawla
Verlag: Springer New York
Abstract
In
Chap.​ 12
we described the monotonic behavior of a composite under ambient temperature conditions of loading. There are many applications of composites where cyclic fatigue and high-temperature, i.e., creep conditions prevail. Accordingly, in this chapter we go further in complexity and describe the fatigue and creep behavior of composites.
Fatigue
is the phenomenon of mechanical property degradation leading to failure of a material or a component under cyclic loading. The operative word in this definition is
cyclic
. This definition thus excludes the so-called phenomenon of static fatigue, which is sometimes used to describe stress corrosion cracking in glasses and ceramics in the presence of moisture. Creep refers to time-dependent deformation in a material, which becomes important at relatively high temperatures (
T
> 0.4
T
m
, where
T
m
is the melting point in kelvin). We first describe fatigue and then creep of composites.