2012 | OriginalPaper | Buchkapitel
Fatigue and Damage Tolerance Behavior of Fiber Composites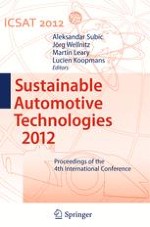 Erstes Kapitel lesen
Autor: H. Bansemir
Verlag: Springer Berlin Heidelberg
The outstanding fatigue tolerance features of composite structures were the reason for introducing composite rotor blades in the helicopter design. One goal was to eliminate dynamically loaded metallic hinges. In 1967, the BO 105, a product of the former helicopter division of MBB, now Eurocopter Deutschland GmbH, flew for the first time. Its hingeless rotor was the first serial design with composite blades. Later in 1996, the EC 135 was certified according to the latest damage tolerance and fatigue certification rules. As a consequent design improvement this helicopter has a sophisticated modern rotor without any hinges and bearings. The EC 135 with the "Flexbeam-Rotor" including the bending and torsion element is shown in Fig. 1. More than 1000 helicopters have been produced until today. [Bansemir, Müller: The EC 135...].
The new American and European certification rules concerning fatigue and damage tolerance of composite structure include the establishment of replacement times and inspection intervals ["Damage Tolerance and Fatigue Evaluation..."]:
Replacement times
must be demonstrated by tests or by analysis supported by tests, to ensure that the structure is able to withstand the repeated loads of variable magnitude expected in service. In establishing replacement times, the following items must be considered: Damage identified by threats, Maximum acceptable manufacturing defects and service damages, Ultimate load strength capability must be shown after application of repeated loads.
Inspection intervals
must be established to ensure that any damage identified that may occur from fatigue and/or other in-service causes will be detected before it has grown to the extent that the required residual strength capability cannot be achieved. The minimum required residual strength is limit load.
[Emmerling: New Fatigue and Damage Tolerance Evaluation Rules...]. The residual strength capability must include the ability to resist the influence of temperature and moisture as well as impacts. The Wöhler curves (SN curves) of composites are usually relatively flat and the influence of notches on high cycle-fatigue is not important. There is no influence of corrosion fretting.