2018 | OriginalPaper | Buchkapitel
8. Fatigue and Fracture Risk Assessment: A Probabilistic Framework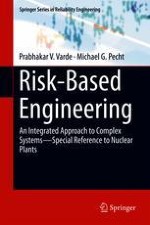 Erstes Kapitel lesen
Autoren: Prabhakar V. Varde, Michael G. Pecht
Verlag: Springer Singapore
Abstract
More than 80% of the components in the modern industrial world are subjected to fluctuating loads and consequently fail through fatigue. Over 50–60 years ago, the fracture mechanics approach to predict the growth of a crack was not available, and therefore, consideration of a higher factor of safety was required to account for unforeseen factors [
1
]. On the other hand, in the nuclear industry, pressure vessels are designed by considering the conservative safety margins as per Sect.
8.3
, Appendix G of the ASME code. Of course, a high standard of safety has been achieved, and no catastrophic failure of a reactor pressure vessel has been reported for pressurized water reactor (PWR) or boiling water reactor (BWR). However, a probabilistic evaluation of conservatisms used has been evaluated employing a probabilistic fracture mechanics approach. It was observed that the safety margins are considerable. Depending upon the conditions considered to be realistic in practice, the margins could be upwards of 10 or more orders of magnitude [
2
]. In fact, for any accident to be categorized as beyond design basis, it is required to establish that the likelihood of catastrophic failure is less than 10
−6
per year [
3
]. Here, the probabilistic fracture mechanics approaches are being used to establish the beyond design basis accident (BDBA) criteria because even with the accumulated operating experience from 430 operating reactors world over, the statistical approach is not an adequate input on BDBA criteria.