01.04.2014 | Ausgabe 4/2014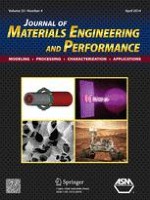 Fatigue Behavior of Friction Stir-Welded Joints Repaired by Grinding
Zeitschrift:
Autoren:

C. Vidal, V. Infante
Abstract
Fatigue is undoubtedly the most important design criterion in aeronautic structures. Although friction stir-welded joints are characterized by a high mechanical performance, they can enclose some defects, especially in their root. These defects along with the relatively low residual stresses of the friction stir-welding thermomechanical cycle can turn into primary sources of crack initiation. In this context, this article deals with the fatigue behavior of friction stir-welded joints subjected to surface smoothing by grinding improvement technique. The 4-mm-thick aluminum alloy 2024-T351 was used in this study. The fatigue strength of the base material, joints in the as-welded condition, and the sound and defective friction stir-welded joints improved by grinding were investigated in detail. The tests were carried out with a constant amplitude loading and with a stress ratio of
R
= 0. The fatigue results show that an improvement in fatigue behavior was obtained in the joints repaired by superficial grinding technique. The weld grinding technique is better especially for lower loads and increases the high cycle fatigue strength. The fatigue strength of the improved welded joints was higher than that of the base material.