2015 | OriginalPaper | Buchkapitel
26. Fatigue Failure of Polyethylene Electrofusion Joints Subject to Contamination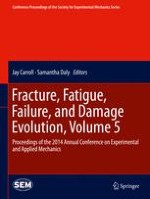 Erstes Kapitel lesen
Autoren: Pedrom Tayefi, Stephen. B. M. Beck, Rachel A. Tomlinson
Abstract
In the UK, water companies renew their aging water network using novel techniques and robust materials. The most common type of material used for network rehabilitation is Polyethylene (PE) pipe. A common method of jointing PE pipe is electrofusion welding. Here, electricity is used to heat a coil that melts the fitting and the host pipe of the same material. When the joint cools it forms a bond. However, premature failure of these can occur if best practice installation principles are not followed on site.
A novel experimental rig, designed to be retrofitted to an existing servo-hydraulic fatigue testing machine, has been used to cyclically pressurise PE fittings that have been created with a controlled element of 'poor workmanship'. Extensive fatigue tests have shown the relationship between joint failure and the dynamic pressures experienced in water distribution systems. Furthermore, the effects of poor workmanship have shown to have a detrimental effect on asset integrity.
A post-failure analysis of the fittings using non-destructive ultra-sonic methods has shown the failure paths of the fittings. Additionally, a bespoke ultra-sonic rig was designed and built to monitor the crack propagation of the fittings during live dynamic tests to confirm the mode of failure.