13.11.2017 | Ausgabe 4/2017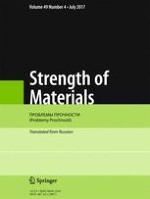 Fatigue Fracture Analysis of Composite Plates With an Elliptical Hole
Zeitschrift:
Autoren:

B. Kielbasa, P. Balon, A. Swiatoniowski, J. Szostak
Wichtige Hinweise
Translated from Problemy Prochnosti, No. 4, pp. 19 – 33, July – August, 2017.
In this study, the analysis of fatigue fracture of composite plates with an elliptical hole having a longer axis parallel to the direction of the applied force is performed. The plates were made of glass/epoxy preimpregnate consisting of eight individual layers with the fiber configuration of [ +45°/ − 45°/ +45°/ −45°]
S
. The mechanical properties and material constants were assessed by performing static tensile tests and analytical calculations. The nominal fiber volume in the composite plates was experimentally determined. The test method of infrared passive thermography was implemented as a non-destructive testing, which provided the determination of the temperature distribution throughout the entire fatigue process. The thermograms were obtained and compared to the real-time photographs of the plates. Moreover, the specific results concerning fatigue phenomena and basic composite failure forms, which usually occur during the fatigue process, are discussed in detail. The theoretically predicted three individual fatigue fracture phases were corroborated the original test results. The first-ply failure (FPF) occurred in the local stress concentration area and propagated in the direction of the corners, along the fibers. The failure forms observed in the static and fatigue tests were nearly the same. Moreover, the comparative analysis of the fatigue fracture of laminates with three various types of holes was performed and presented in the graphical and tabular forms.