01.02.2011 | Ausgabe 1/2011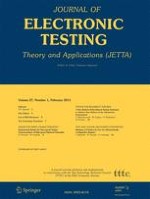 Fault Diagnosis in Lab-on-Chip Using Digital Microfluidic Logic Gates
Zeitschrift:
Autoren:

Yang Zhao, Krishnendu Chakrabarty
Wichtige Hinweise
Responsible Editor: B. B. Bhattacharya
This research was supported in part by the National Science Foundation under grants CCF-0541055 and CCF-0914895. A preliminary version of this paper was published in Proc. IEEE International Mixed-Signal, Sensors, and Systems Test Workshop, 2008.
Abstract
Fault diagnosis is needed for a lab-on-chip to facilitate defect tolerance using reconfiguration. Previously proposed techniques for reading test outcomes and for pulse-sequence analysis are cumbersome and error-prone. We present a fault-diagnosis method to locate a single defective cell and multiple rows/columns with defective cells in a digital microfluidic array. The proposed method can also locate an unknown number of rows/columns-under-test with defective cells. It utilizes digital microfluidic exclusive-or gates to implement an output compactor. The microfluidic compactor can compress 2
r
distinct test outcomes to a
r
-droplet signature. This approach obviates the need for capacitive sensing test-outcome circuits for analysis. We analyze the probability of misdiagnosis and use the compression ratio as a measure to evaluate the proposed fault-diagnosis method.