2019 | OriginalPaper | Buchkapitel
Fault-Tolerant IoT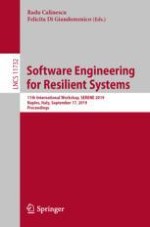 Erstes Kapitel lesen
A Systematic Mapping Study
Autoren: Mahyar Tourchi Moghaddam, Henry Muccini
Abstract
A failure may occur at all architectural levels of the Internet of Things (IoT) applications: sensor and actuator nodes can be missed, network links can be down, and processing and storage components can fail to perform properly. That is the reason for which fault-tolerance (FT) has become a crucial concern for IoT systems.
Our study aims at identifying and classifying the existing FT mechanisms that can tolerate the IoT systems failure. In line with a systematic mapping study selection procedure, we picked out 60 papers among over 2300 candidate studies. To this end, we applied a rigorous classification and extraction framework to select and analyze the most influential domain-related information. Our analysis revealed the following main findings:
(i)
whilst researchers tend to study fault-tolerant IoT (FT-IoT) in cloud level only, several studies extend the application to fog and edge computing;
(ii)
there is a growing scientific interest on using the microservices architecture to address FT in IoT systems;
(iii)
the IoT components distribution, collaboration and intelligent elements location impact the system resiliency. This study gives a foundation to classify the existing and future approaches for fault-tolerant IoT, by classifying a set of methods, techniques and architectures that are potentially capable to reduce IoT systems failure.