2006 | OriginalPaper | Buchkapitel
FE-Tool CODAC for an Efficient Simulation of Low-Velocity Impacts on Composite Sandwich Structures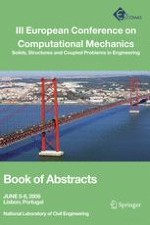 Erstes Kapitel lesen
Autoren: Luise Kärger, Jens Baaran, Jan Teßmer
Verlag: Springer Netherlands
The finite element based damage tolerance tool, CODAC, has been developed for efficiently simulating the damage resistance of sandwich structures subjected to low-velocity impacts. The considered double shell structures consist of two thin composite face sheets separated by a lightweight core. Due to their high mass specific stiffness and strength, a very weight efficient design is achievable. Moreover, the core can provide damping and insulation, while the outer face sheet can act as an impact detector. However, impact damage in sandwich structures can provoke a significant strength and stability reduction. Therefore, the objective of CODAC is to provide methodologies which reliably simulate impact events and accurately predict impact damage sizes.
Since frequent design loops require a quick analysis, efficient deformation and failure models are needed. To achieve a rapid and accurate stress analysis, a three-layered finite shell element has recently been developed [
1
]. The element accounts for shear deformation and transverse compressibility. Since an accurate approximation of the transverse stresses is an important requirement for detecting impact damage, transverse stresses are improved by the so-called Extended 2D-Method, which is an equilibrium approach that has been applied to a three-layered shell theory [
2
].
To predict damage growth during the impact event, a progressive damage mechanics approach is applied. Stress-based failure criteria are used to detect damage initiation. Subsequently, material resistance is reduced by applying appropriate degradation models. An experimental impact test program on honeycomb sandwich panels is used to validate the impact simulation of the FE-tool CODAC. Force-time histories and damage sizes are examined, and the influence of distinct failure models on the impact response is analyzed [
3
]. Comparisons between impact tests and simulations showed that CODAC is capable of accurately and rapidly simulating impact events, which induce barely visible damage.