14.02.2017 | Ausgabe 5/2017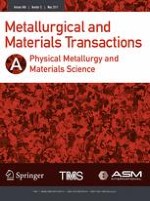 Feasibility of Electrochemical Deposition of Nickel/Silicon Carbide Fibers Composites over Nickel Superalloys
Zeitschrift:
Autoren:

E. P. Ambrosio, M. R. Abdul Karim, M. Pavese, S. Biamino, C. Badini, P. Fino
Wichtige Hinweise
Manuscript submitted November 3, 2014.
Abstract
Nickel superalloys are typical materials used for the hot parts of engines in aircraft and space vehicles. They are very important in this field as they offer high-temperature mechanical strength together with a good resistance to oxidation and corrosion. Due to high-temperature buckling phenomena, reinforcement of the nickel superalloy might be needed to increase stiffness. For this reason, it was thought to investigate the possibility of producing composite materials that might improve properties of the metal at high temperature. The composite material was produced by using electrochemical deposition method in which a composite with nickel matrix and long silicon carbide fibers was deposited over the nickel superalloy. The substrate was Inconel 718, and monofilament continuous silicon carbide fibers were chosen as reinforcement. Chemical compatibility was studied between Inconel 718 and the reinforcing fibers, with fibers both in an uncoated condition, and coated with carbon or carbon/titanium diboride. Both theoretical calculations and experiments were conducted, which suggested the use of a carbon coating over the fibers and a buffer layer of nickel to avoid unwanted reactions between the substrate and silicon carbide. Deposition was then performed, and this demonstrated the practical feasibility of the process. Yield strength was measured to detect the onset of interface debonding between the substrate and the composite layer.