20.01.2021 | ORIGINAL ARTICLE | Ausgabe 2/2021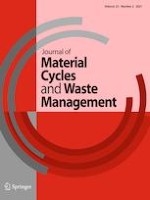 Feasibility of platinum recovery from waste automotive catalyst with different carriers via cooperative smelting-collection process
Zeitschrift:
Autoren:

Chuan Liu, Shuchen Sun, Xiaoping Zhu, Ganfeng Tu
Wichtige Hinweise
Publisher's Note
Springer Nature remains neutral with regard to jurisdictional claims in published maps and institutional affiliations.
Abstract
Large amounts of waste automotive catalyst (WAC) containing platinum are generated as the automotive scrapped, which not only wastes platinum resources, but also causes environment impacts if WAC is not addressed. In this research, a novel and effective smelting-collection process for recovering platinum from WAC was proposed. The different WAC carriers (cordierite carrier and alumina carrier) are mixed and subjected to smelting-collection with the addition of collector metal of iron powder and flux agent of CaO. The carrier materials serves as slag constituents, and the addition of extra slagging flux such as SiO2 and Al2O3 was nearly avoided compared to platinum recovery from single WAC carrier. Experimental results indicated that the maximum platinum recovery was over 98%, when cordierite carrier WAC addition, collector metal addition, CaO/SiO2 mass ratio, smelting temperature, and holding time were 80 wt%, 10.5 wt%, 0.5, 1550 °C and 120 min, respectively. After smelting, platinum is concentrated into Fe–Pt alloy, and the glass slag which is believed to be safe to the environment is obtained. The results indicated that platinum content in obtained alloy and glass slag was 0.63 wt% and 9.4 g/t, respectively. This proposed process is an effective and economical approach for recovery platinum from WAC.