2017 | OriginalPaper | Buchkapitel
Feature Extraction for Incomplete Data via Low-rank Tucker Decomposition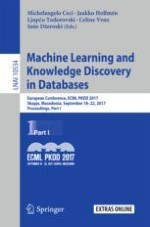 Erstes Kapitel lesen
Autoren: Qiquan Shi, Yiu-ming Cheung, Qibin Zhao
Abstract
Extracting features from incomplete tensors is a challenging task which is not well explored. Due to the data with missing entries, existing feature extraction methods are not applicable. Although tensor completion techniques can estimate the missing entries well, they focus on data recovery and do not consider the relationships among tensor samples for effective feature extraction. To solve this problem of feature extraction for incomplete data, we propose an unsupervised method,
TDVM
, which incorporates
low-rank
T
ucker
D
ecomposition
with
feature
V
ariance
M
aximization
in a unified framework. Based on Tucker decomposition, we impose nuclear norm regularization on the core tensors while minimizing reconstruction errors, and meanwhile maximize the variance of core tensors (i.e., extracted features). Here, the relationships among tensor samples are explored via variance maximization while estimating the missing entries. We thus can simultaneously obtain lower-dimensional core tensors and informative features directly from observed entries. The alternating direction method of multipliers approach is utilized to solve the optimization objective. We evaluate the features extracted from two real data with different missing entries for face recognition tasks. Experimental results illustrate the superior performance of our method with a significant improvement over the state-of-the-art methods.